Regular price
Sale price
$27.00 USD
Unit price
per
Sale
Sold out
The Traveler Five Pack contains five* of nine varieties – nine just won't fit – always including a Premium. Descriptions of each blend and ideal food pairings are included on the information card. Any Vineyard lover will feel kindred to Heidi & Curtis the wash-ashore selmiers whose calling is to work with the sun, sea and land to revive the Island tradition of farming salt. Each Traveler is removable from the backer board which makes them ideal for sharing.
*Orders containing more than one Traveler Five Pack may request which four sea salts are preferred in the package of five. Please use the Comments box when placing your order.
2.5 oz. total in five 5 oz. resealable containers. Please re-use/recycle packaging.
Ingredients: 100% natural Atlantic sea salt, eight varieties blended with herbs and/or spices, activated charcoal or small batch smoked over Oak for six-eight hours.
How MV Sea Salt is Made

Wild Atlantic Ocean + Filter + Sun= MV Sea Salt

No easy yet carbon intensive, taste changing boiling or baking techniques for Heidi & Curt. Nope, they depend on Mother Nature to 100% sun-dry MV Sea Salt. Of course, humidity is a thing on an island plus the salt is from the ocean so MV Sea Salt is moist and briny the way sea salt should be… It takes like Martha's Vineyard. Really. It does.


Throughout the year, Heidi and Curtis (and any good-natured friends they can rope in) go to the island's south shore when the wind, tide and wave action are acceptable to collect at least 1,000 gallons of wild Atlantic Ocean seawater. If they spy a seal then they high tail it for home before collecting for where there are seals….[insert Jaws music here {insert gasp emoji here please}]

Back at Down Island Farm, they filter and reverse pump the water into a building similar to a greenhouse. The filter removes sand, seaweed, or aquatic life (which they collect and feed to the chickens and peacocks) from the water.

The evaporator is totally heated by the power of the sun; it can reach over 110 degrees inside! The heat, and solar fans which break surface tension slowly evaporate water – a process which can take upwards of 10 weeks depending on the weather (hot and dry is optimal). As the seawater evaporates, the salt is left behind, slowly turning from clear to opaque to blotchy then solid, and forming piles of crumbly crystals. When a crust forms on top, it's ready to harvest as finishing salt

Heidi and Curt gently collect the delicate sea salt crystals into pyramids and allow a few more days of evaporation. Entering the evaporator again, Heidi and Curt collect the crystals in totes to bring inside for packaging.

1,000 gallons of seawater makes about 250 pounds of salt. Two grades of salt– a drier "traditional" or "finishing" salt and a more mineral-dense, moist salt are harvested. Once scooped up from the evaporator then packaging begins. Visit Buy Sea Salt
Share
View full details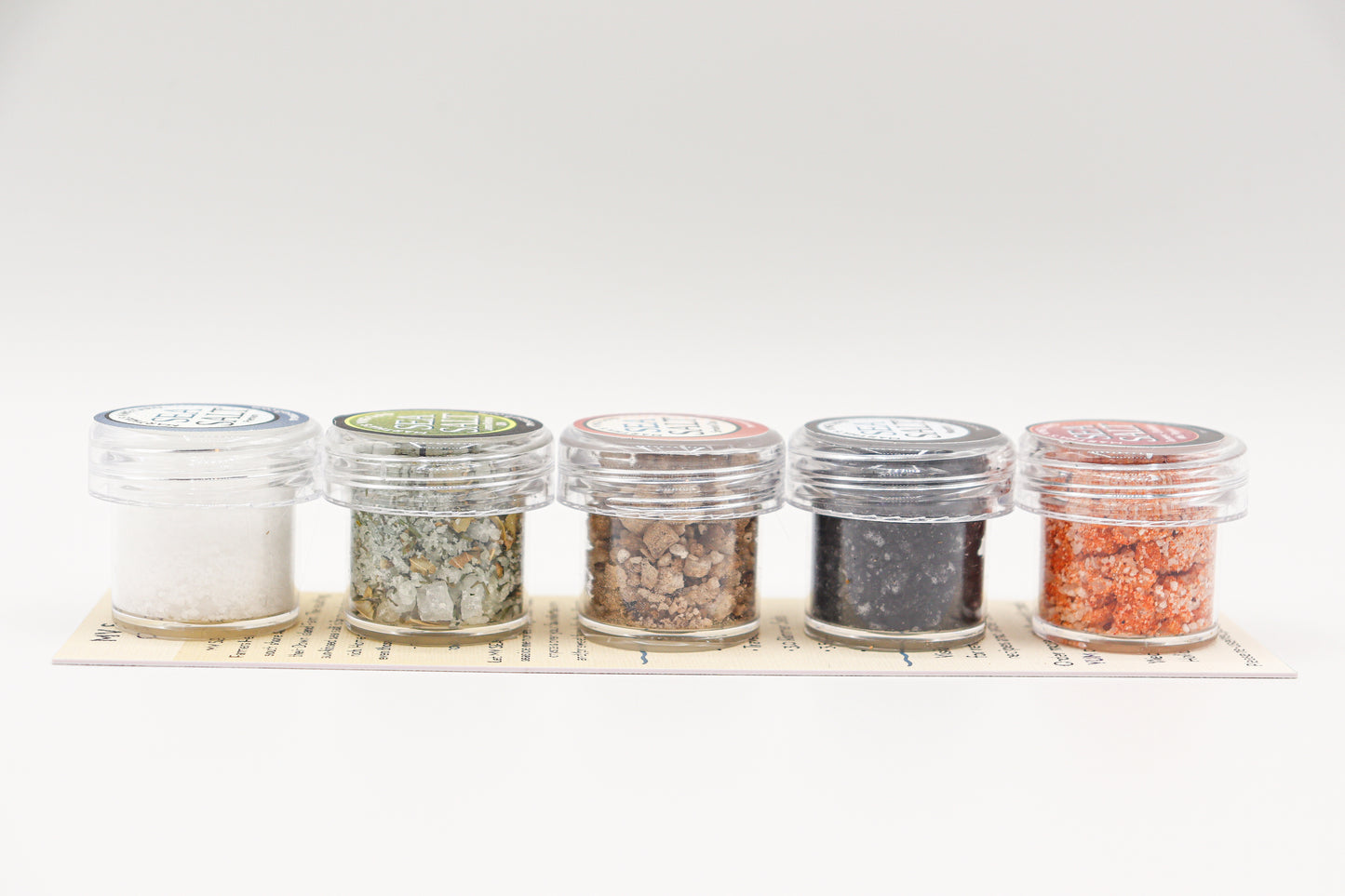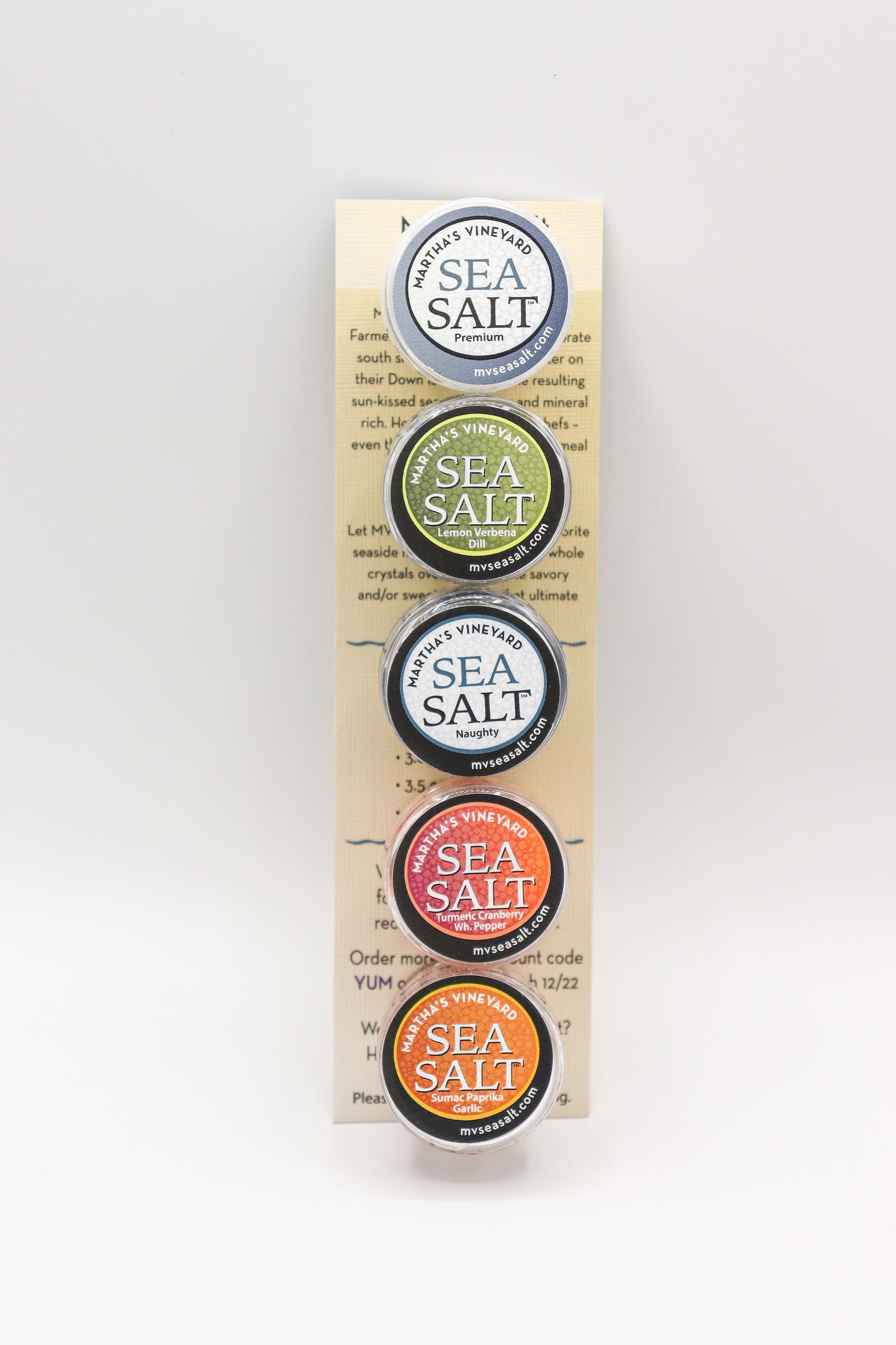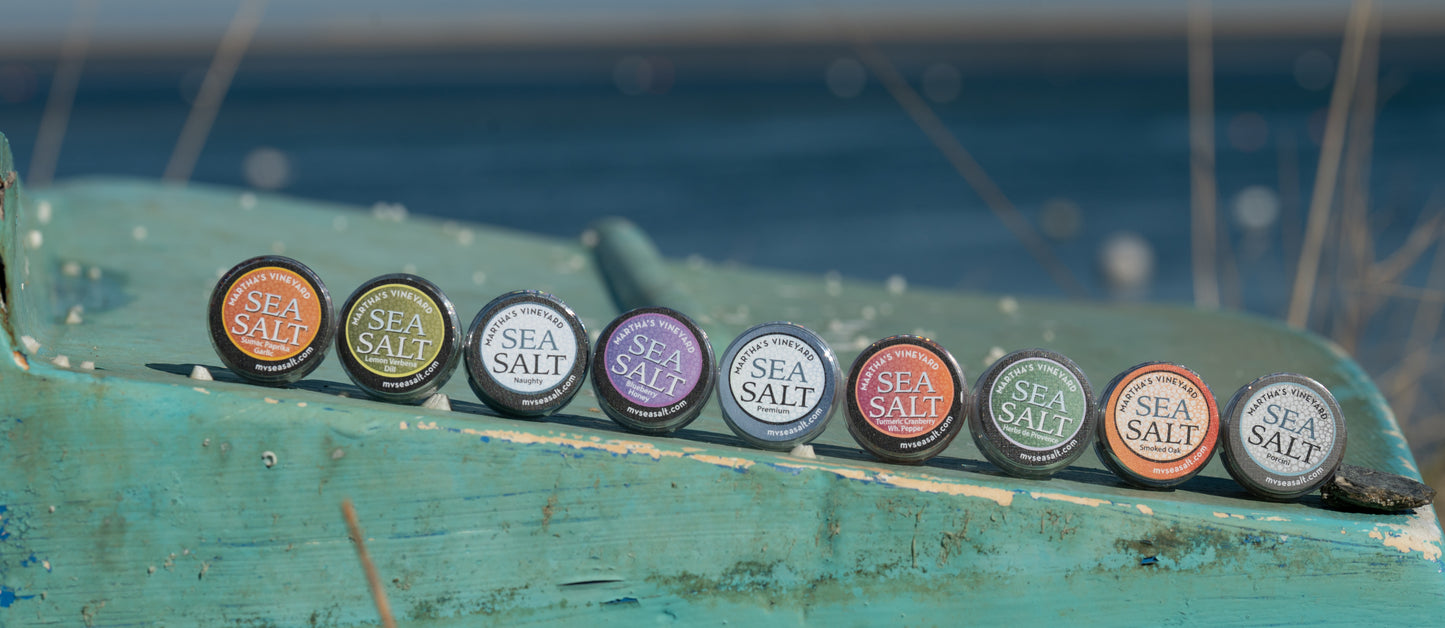 Martha's Vineyard Salt Blends
Premium

Perfect atop any cuisine, Premium is the most gorgeous, first-raked sea salt from each small batch.
Lemon Verbena and Dill

MV Sea Salt Lemon Dill is a blend of OG Certified or Island grown herbs sure to please everyone.
Sumac, Paprika and Garlic

This savory blend contains Island harvested Sumac which imparts a lemony note and garlic from Heidi & Curt's farm to this savory blend.
Local Smoked Oak

Local Oak Smoked imparts that summer grill flavor year round.
Turmeric, Cranberry and White Pepper

Inflammation curbing turmeric is blended with tart cranberry and a touch of pepper to activate the turmeric.
Blueberry Honey

Sweet and Salty lover? Our Blueberry Honey blend may blow your mind. OG Certified blueberries, and freeze dried honey.
Naughty

A sexy and healthful blend of MV Sea Salt and activated charcoal.
Porcini

Adds a woodland umami and a whole new flavor sensation on foods you already love. Sprinkle on eggs, vegetarian and beef dishes, broths, and sauces - yes sauces!
Herbes de Provence

Merges the Vineyard with Côte d'Azur; two vacations in one. It's just that dreamy. Dust grilled/roast chicken, lamb, fish, and vegetables. And, ohhhh, grilled peaches and Brie!
Order in Bulk!
For your Shower & Wedding:

Give your guests the authentic taste of the island you love.

Learn More

Wholesale: Restaurants

All that effort, all that goodness, topped with the best quality seasalt you can find.

Learn More

Wholesale: Retailers

Share the gift of taste with your food curious customers.

Learn More